About the Training
"This video explains how a very important business strategy of merging with a competitor occurs frequently in high-level chess tournaments. Opponents offer a draw so they can split their winnings. In business it's a viable survival strategy that the creators of PayPal used to survive the dot-com implosion."
Business on the Board™ is ready to design a customized talent development program that meets the specific needs of your company's leaders.  It may start with a keynote speech on leadership, be followed by a workshop on strategic thinking, or a hands-on breakout session using gamification.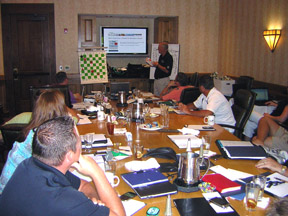 Are you an event planner looking for fresh content for your client's big event? Do you need to organize an executive retreat for team building with your company? We can help you create a unique experience anywhere in the world. 
Are you a leader at your company that would like exclusive private lessons for you and your staff? We can design a talent development program that includes ongoing consulting and evaluation of the results.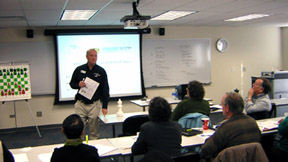 Materials presented before the event and use of the best-selling Business on the Board textbook during the event eliminate any concerns about business or chess background deficiencies.  We use "chess for purpose" so someone with little experience will gain the benefits of being a transformational, situational, and end-results based leader.
Generating strategies, managing a workforce, evaluating threats, anticipating competitor's moves, delegating, and visualizing the future are  skills that leaders use every day to get ahead of their competition and manage their team.
Our talent development enhances the following skills:
Strategic Thinking

Problem Solving Ability

Visualization

Logical Thinking

Calculating Ability

Tactical Awareness

Competitiveness

Competitor Threat Analysis

Developing a Plan of Action

Executing a Plan

Decision Making
Prioritizing

Evaluating available Options

Taking Action with Initiative

Defeating Procrastination

ROI on a Sacrifice

Risk Management

Leadership

Team Building

Management

Reduction in Forces (RIF)

Time Management